The final aim of any resource is direct sales or, if we speak about brand websites and promo-pages it is their influence on the increase of sales. A user-orientated website can bring a lot of profit. However, it takes a lot of time and efforts to achieve long-term objectives. Let's have a look at several ways of a real estate website monetisation.
1. Context advertisement
Large services of context advertisement, especially Yandex.Direct and Google Adwords suggest the website owners getting an income by placing advertisement. There are special affiliate programmes, according to their rules the website owner gets a particular sum of money for ads. that have been clicked. For instance, Yandex advertisement network shares half of the money that pays the advertising customer for following the links.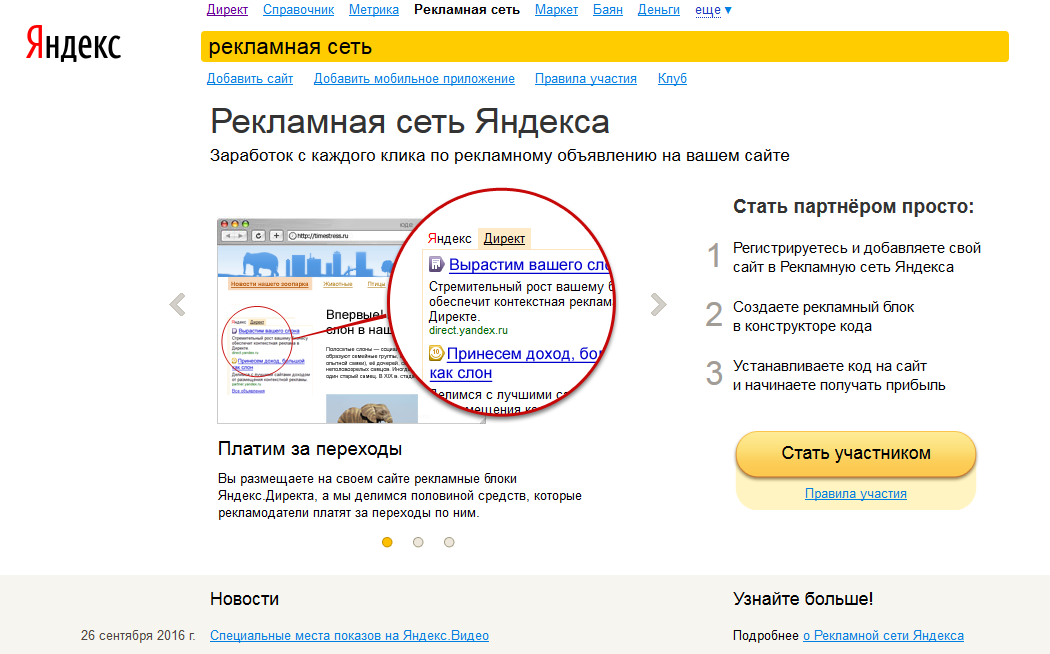 You can learn the rules of participation in Google AdSense here.
Take into account that services have some requirements both to technical parameters of the partners' websites and their content. Moreover, to earn money for advertisement, you need a high website traffic, otherwise there is no sense in placing advertisement in your website.
2. Banner advertisement
The main idea of this way is placing advertising banners in your website pages. You are paid for the number of displays. If a portal or a listing board has got a high traffic, this way of promotion can also bring stable passive income.
Obviously, you should do it within reasonable limits and not to spoil the website with too much advertisement, as your users may not like it and they will never visit your portal again. They are the main consumers of the advertisement.
There are a lot of portals where you can register as a partner. For example, Rotaban, Soloway, Wizard Banners and a lot of other services.
3. Paid services
Another way is the introduction of paid services for website users. In the CMS Open Real Estate out of box there are three kinds of paid services, which can be applied to a listing:
mark as a special offer;
put at the top of search results;
add to the slide-show in the home page.
Moreover, there is an opportunity to set tariff plans for users, which limits some website opportunities or access to a particular information until a user buys a tariff plan.
The introduction of tariff plans lets you:
limit the number of views of contact details (address and contact details of a linsting owner);
limit the number of photos that can be uploaded;
limit the number of listings for one account;
set the period of displaying a listing.
Due to these opportunities you can get income from your website both from buyers and sellers of property.
4. Direct sales of advertisement
Nowadays special projects is a popular way of advertising. It is an advertisement which becomes a part of a portal content and it can be entertaining, informative, educating or news relating.
The main benefit of such a way is that it is low pressing, viral and gives an opportunity to implement non-standard solutions. To create something like this you should keep in touch with the advertising customer and find an individual approach and a format. It can be a sponsored post, special section in a website for an advertisement giver, brand quizzes or tests, infographics and others.
Who are you advertising customers?
Potential customers of a real estate portal can be:
real estate agencies;
realtors;
real estate constructors;
banks and micro financial organisations;
juridical entities etc.
Of course, to offer your services to the customers directly your portal should have a large traffic and competitive advantages such as convenient service, a website functionality and other benefits that seem appealing for users and make your website useful for advertising customers.
Conclusions
As you see there is a great deal of way of a website monetisation, each of them works only of your resource is useful for the audience. Not to lose your target audience and traffic you should work on its development, increasing a traffic and promoting: create new content, introduce new services, follow the field trends and enhance the design and functionality of your website. In this way your website will be enlarging and provide you stable passive income.