The main advantange of 'Atlas' theme is the comfortable way users can work with it from the mobile devices. This increases users' satisfaction. .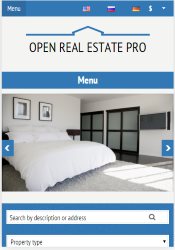 According to Google PageSpeed Insights, the usability of the main page with 'Atlas' theme (on the mobile devices) gets 99 points of 100:

One more advantage of 'Atlas' theme is its adaptivity.
Why adaptive design is better?:

Reduction of financial and time expenses of the site support, as there's no need to develop and support separately mobile version of the site, like it used to be a few years ago;

The site adapts to the screen size of user's device;

The site search engine ranking goes up. Google raises in the search mobile friendly sites. Thus, site conversion and income increase.