One way or another, the main objective of a user in a real estate portal is to find a property to sell or rent, so the base of object exists in the most of real estate agency websites. To simplify the search for potential clients it's important to make this process convenient.
Usually, the clients search for the objects using special filters. Most of them doesn't like filling in a lot of fields, that's why search should be optimized in such a way to make it more functional and informative. Our recommendation will help you to improve its efficiency.
Put the search form in the center of a site
Search is one of the main features of a real estate website that's why it should take the central place on the homepage.
You can also put a short search form in inner pages of a site, so the user will be able to unfold if necessary or place the links to property categories in a catalog according to their types: flats, cottages, new buildings, land properties etc. More important is to provide an easy access to the sections of the objects catalog for each site page to make the navigation convenient.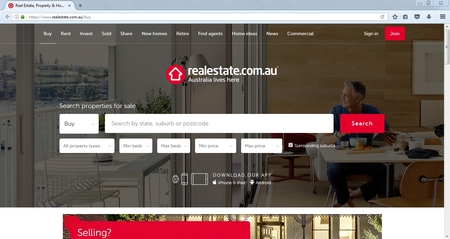 Use quick and extended search
In most of real estate sites a client sees a small search form with basic characteristics. However, it's worth having an extended search form and you should offer the user the format to choose. An extended version will be popular among clients who already have a clear idea of what they really want, they know what flat square, number of rooms, location, floor, price range and facilities they want.
Search characteristics should be adjusted for the property type
It's obvious that the characteristics for searching a flat and a land plot are rather different. According to the chosen property type a form should have a different set of fields which fits to this type. There's no good in confusing the user with other additional fields which they will have to fill in.
A separate search for different types of deals
The first step of an object search should be the choice of the deal type. According to this all other characteristics will be displayed which are necessary for purchasing, renting and selling a flat.
An opportunity to choose several characteristics
You should take into account that some clients come to the site not sure about all the characteristics for their future home. So provide the user an opportunity to choose several characteristics simultaneously, for instance, flat and houses, 2-room and 3-room flats.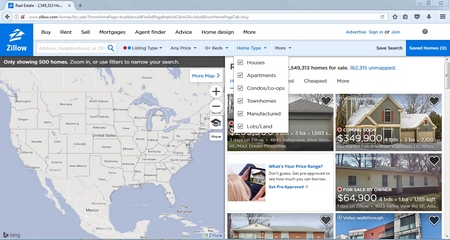 Show how many objects correspond to the chosen characteristics before a user clicks "Search" button
This feature saves the user's time: if there are no objects with the chosen characteristics, the user can change them immediately.

Search characteristics should correspond the real estate property database
Don't make a detailed extended search form for a small database of objects, it can happen that there will be no objects on the chosen characteristics, In this case it's better to pit a short search on basic characteristics. If you have a large catalog of objects your client will find it very useful.
And one more pretty obvious tip Ц a search form must work!
You must check that this necessary tool of a trade for real estate agencies works properly, especially if you constantly add new features to your site or do some customisation.