For what purposes do agencies need social networks?
1. Feedback and advertisement
For sure, where else can you publish promo posts and make announcements about special offers but in social networks. However, you should remember that there shouldn't be too much advertising content: even if the user is already loyal and subscribed to your group themselves, they want to see not only advertisement, but also some useful information.
2. The increase of the audience's loyalty
Real estate agency's page can contribute in the customers' attitude to the brand (it's better when it is trustworthy). Publishing of expert content, on-the-spot feedback, active communication is what helps clients to get to know you.
By the way, Twitter fits for active interaction. Just remember how quickly and sometimes with a good sense of humor mobile operators react on the users' posts. Or how quickly Ozon answers all the customers' questions about the statuses of their orders. No doubt, such an approach is a practice that should be taken no matter what kind of business you have.
3. Quality audit of the services
Social networks are good for gathering users' feedback. Usually there are special sections in groups for these purposes or a dissatisfied customer will always find their way to write about all the support drawbacks. Sometimes it is really useful as the company managers always know about the weak points in customer care. On the basis of the users' wishes you can improve you services.
4. Sales
It is thought that social networks don't sell directly, they increase the sales indirectly. However, for some people it is easier to write to the company in such a way rather than call or go to the company office. Of course, it will be necessary to meet an agent later, however, the first contact will help a user understand if the company offers fit them or not.
5. Interest for the product due to personal branding
It often happens that the users' interest to the company may increase due to the media person. As the main mission of social networks is communication and it's quite natural that people want to get closer to the person who is interested for them to have a talk with. When you have interesting personality you project can kindle people's interests. That's why if a specialist or a real estate representative has their own blog, sooner or later their project will become interesting for customers as well.
By the way, it's not obligatory to publish posts concerning professional issues daily, day-to-day topics will be also popular, especially if you have unusual points of view on life. Your lifestyle, relationships, children, culture and upbringing are life topics which are interesting for lots of people. Here a reverse effect will work: the person who wants to know your opinion about general topics would also read your posts about real estate.
Last, but not least, social networking services are so quickly developing nowadays as they can even become a replacement for a website. In any group or community it is possible to put your goods and services, place application form and write a private message.
Main principles for networks group administration
Content type balance
The best solution for different content types in a commercial group is like this: 40% - involving, 30% - user, 25% - educative, 5% - advertising. This is the sweet spot where all the types will be balanced. If you overuse something it can influence the attitude towards the group and the community in general, for example, people are unlikely to love too much advertisement in the group.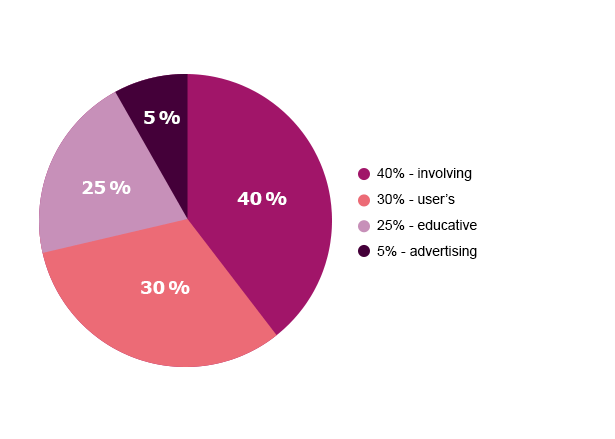 Unique content
On the internet it's important to be the first one. Publish only acute news, think of new forms of giving the materials, think up new topics, in other words, aspire to be the best I what you're doing. This way you will easily upstage your competitors.
Integrity
There's nothing worse than using unfair ways of promotion. False testimonials and thousands ob bots in your community won't bring you any benefits. Moreover, check carefully the facts and always publish in the community the information from reliable sources. Don't forget that your task is to gain audience's trust.