Would you like to make money from your site? Module 'Paid services and Payments' will surely be of help!
You can get payments through the most popular and well-known payment systems:
Available payment ways, amount of commission for transactions and other info can be checked on the site of a particular payment system.
The payment system you need is not on the list? We can integrate any payment system on your choice!
The module offers the following paid services applicable to listings:
All or multiple paid services can be applied to a listing.
Site administrator can set the cost and period of the service and apply any paid service to any listing in 'Listings management' area.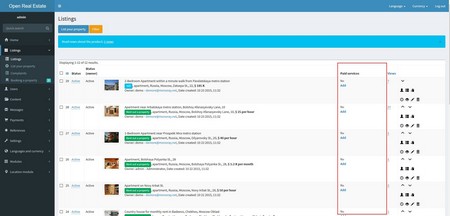 With modules 'Booking calendar' and 'Paid services and payments' administrator can activate paid service 'Online booking'. In the settings for the service you can set the advance payment in % for a property booking. After the service is activated, administrator can mark users' booking requests as 'Should be paid' and set the price which is supposed to be paid. After these manipulations user receives a letter that says the booking should be paid.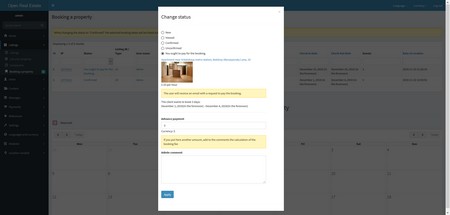 User can pay booking in the personal account. After the payment is successfully completed, the booking is confirmed and the corresponding period is marked as reserved in the calendar. Letters about booking status change can be edited in 'Mail editor' area in the admin panel.
Should you have any questions regarding module functionality - contact us!
* Module 'Paid services and Payments' doesn't include payment systems W1, LiqPay and PayMaster. You should buy them separately.