Module 'Messages' allows to exchange messages on the website between registered users as well as between registered users and an administrator. The module implements an internal mail system on the website. The function of the link 'send a message' changes for registered users on the page of a listing, the message will be sent by means of the module. A new section 'My mailbox' appears in a user's account :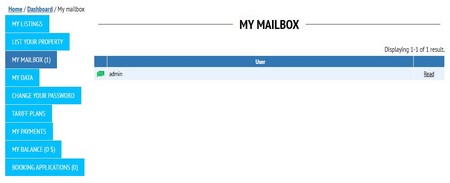 Sections 'Messages' and 'Newsletter' appear in the admin panel: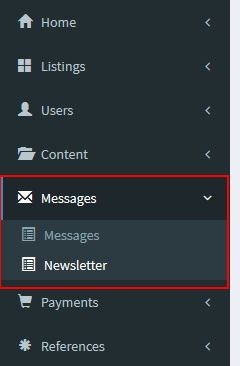 'Newsletter' section allows to create and send internal newsletters selecting users on the following criteria:
User's type
Presence of user's listinigs
Location specified in a user's listing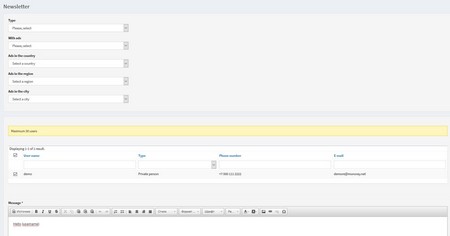 After specifying a criterion you can select users in the list given at the bottom of the page. You can select up to 30 users for a newsletter:

An administrator can send a message to a user clicking the corresponding icon in the section 'Users' in the admin panel.

You can attach a file to the message. Supported file types are: jpg, png, gif, doc, docx, pdf. Maximum file size is 16 MB.
Receiving a message through module 'Messages' a users gets a notification by email.
If the module 'Messages' is installed you can manage its settings and status in the section 'Modules management' in the admin panel: